Under the Thermo Scientific brand of Thermo Fisher Scientific, Inc. (NYSE:TMO), we help scientists meet the challenges they face in the lab or in the field every day. From routine analysis to new discoveries, our innovations help professionals do the science they need to do, the way they want to do it. Our high-end analytical instruments, laboratory equipment, software, services, consumables and reagents help our customers solve complex analytical challenges, improve patient diagnostics and increase laboratory productivity.
Product
---
SOLA II Sulfur Online Analyzer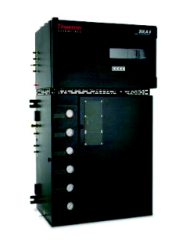 Measure total sulfur in liquid hydrocarbon fuel process streams with the Thermo Scientific™ SOLA II Sulfur Online Analyzer. This field-proven instrument addresses the need for a low-maintenance sulfur analyzer that can reliably measure low ppm levels to help customers meet the tightening, Tier 2, regulatory requirements that limit sulfur levels in fuels. The SOLA II uses the low-maintenance pulsed ultraviolet fluorescence (PUVF) detector with the proven Pyrolysis system for measuring total sulfur in gasoline, diesel, kerosene, and jet fuel. It also offers an online adaption of ASTM D5453.
Key Features:
Full scale measurement range are from 0 to 5 ppm/wt to 0 to 9000 ppm/wt detection limits as low as 0.25 ppm
Automatic stream switching is also available for dual-stream or quad-stream applications
Sample combustion uses air only, no pure oxygen is required
Longer life and better low detectable limits than non-pulsed UV systems
Low consumables
Low maintenance
Continuous sample injection
Easy operation
Low sulfur in fuels measurement needs met now and in the future
Analog Outputs:
4-20mÅ DC for each stream (optional)
Alarm Outputs - One Global Dry Contact Triggered by One or More of the Following:
Low sample flow alarm (optional)
Low detector flow alarm
Oven/Pyrolyzer temperature fault
Injection valve fault
Purge failure
Calibration fault
Detector temperature fault
Detector lamp voltage fault
One out of service dry contact triggered by: analyzer in calibration or suspension of analyzer
Analog Inputs:
Optional 4-20mÅ DC inputs from density meter for automatic density compensation of ppm S (w/w)
Optional 4-20mÅ DC input from sample flowmeter
Digital Data Communications:
Dual channel with the following optional configurations:
RS-232 Modbus & RS-485 Modbus
Dual channel RS-485 Modbus
TCP/IP encapsulated Modbus & RS-485 Modbus
SOLA II Modbus Remote Interface:
Complete remote control of SOLA
Automatic logging of analysis results and analyzer parameters
Communication to SOLA II via serial or TCP/IP encapsulated Modbus enables remote diagnostics via modem
SOLA Web Remote Interface:
Complete remote control of SOLA
Ability to download 24 hours of analysis results and analyzer parameters
Communication to SOLA II via local area network (TCP/IP) enables remote diagnostics via modem
Local MMI (Man Machine Interface):
Status of all analyzer parameters (e.g., furnace & oven temperatures, PMT and lamp voltage, detector flow rate, etc.) and analytical results available on front mounted displays
Push button menu access
Hazardous area classification remains intact while operating local display
Recommended for:
Diesel
Gasoline
Kerosene
Jet Fuel
Naptha
Natural Gas
Refinery Fuel Gas
LPGs
Specifications
| | |
| --- | --- |
| Alarm Output | One global dry contact triggered by one or more of the following; Low sample flow alarm (optional); Low detector flow alarm; Oven/Pyrolyzer temperature fault; Injection value fault; Purge failure; Calibration fault; Detector temperature fault; Detector lamp voltage fault; One out of service dry contact triggered by; Analyzer in calibration; Suspension of analyzer |
| Ambient Temperature | 12 to 40°C |
| Analog Inputs | Optional 4-20mÅ DC inputs from density meter for automatic density compensation of ppm S (w/w); Optional 4-20mÅ DC input from sample flowmeter |
| Analog Outputs | 4-20mA DC for each stream, up to 2 streams (optional) |
| Calibration | Automatic or manual |
| Certifications/Compliance | (Built to) NEC Class I, Division 2, Groups B, C |
| Depth (English) Zone 1 Div 1 Configurations | 18.75 in. |
| Depth (English) Zone 2 Div 2 Configurations | 18.75 in. |
| Depth (Metric) Zone 1 Div 1 Configurations | 476.25mm |
| Depth (Metric) Zone 2 Div 2 Configurations | 476.25mm |
| Description | Sulfur OnLine Analyzer |
| Digital Data Communication | Dual channel with the following optional configurations; RS-232 Modbus and RS-485 Modbus; Dual channel RS-485 Modbus; TCP/IP encapsulated Modbus and RS-485 Modbus |
| Height (English) Zone 1 Div 1 Configurations | 62.25 in. |
| Height (English) Zone 2 Div 2 Configurations | 43.48 in. |
| Height (Metric) Zone 1 Div 1 Configurations | 1581.15mm |
| Height (Metric) Zone 2 Div 2 Configurations | 1104.39mm |
| Hertz | 50/60Hz |
| Instrument Air | 80psig (5.5 barg), 8 SCFM, Oil Free, -40°C (-40°F) dew point |
| Linearity | ±2% of full scale, one sample injection per minute2; ±1% of full scale, two sample injections per minute2 |
| Local MMI | Status of all analyzers parameters (e.g., furnace |
| SOLA II Modbus Remote Interface | Complete remote control of SOLA; Automatic logging of analysis results and analyzer parameters; Communication to SOLA II via serial or TCP/IP encapsulated Modbus enables remote diagnostics via modem |
| SOLA Web Remote Interface | Complete remote control of SOLA; Ability to download 24 hours of analysis results and analyzer parameters; Communication to SOLA II via local area network (TCP/IP) enables remote diagnostics via modem |
| Voltage | 110; 220VAC |
| Width (English) Zone 1 Div 1 Configurations | 25.5 in. |
| Width (English) Zone 2 Div 2 Configurations | 25.5 in. |
| Width (Metric) Zone 1 Div 1 Configurations | 647.7mm |
| Width (Metric) Zone 2 Div 2 Configurations | 647.7mm |
| Zero Grade Air | 80psig (5.5 barg), 200 to 300 SCCM |
| Detector Type | Pulsed UV Fluorescence (PUVF) with Pyrolyzer for Total Sulfur Measurement1 |
| Item Description | SOLA II |
| Measurement Ranges | SOLA II: Full scale ranges from 0-5 ppm S to 0-5000 ppm S (greater than 5000 ppm, consult Thermo Fisher Scientific); SOLA Trace: Consult Thermo Fisher2; SOLA Flare DI (low and high range analyzer system): ±1% of full scale; SOLA Dual Calibration/Dual Stream: Same ranges available as on the SOLA II |
| No. of Process Streams | Dual or Quad streams with auto stream select (optional) |
| Electrical Requirements | 110; 220VAC 50/60Hz |
---